What's different about NAB?
NAB (ASX: NAB) is one of Australia's so-called "Big Four" Banks and is the second largest by market capitalization – only trailing CBA (ASX: CBA). This company provides banking services, particularly deposit accounts and loans to customers in Australia and overseas.
Compared to its peers it has a larger exposure to the business lending market and has positive trading momentum, turning itself around following the Banking and Financial Services Royal Commission and the hiring current CEO Ross McEwan. It has consequently had by far the biggest six month share price gain among the Big 4, gaining 16%.
GET A 30-DAY FREE TRIAL TO STOCKS DOWN UNDER
The COVID lending boom rolls on
NAB's most recent company update was the release its 1Q22 results. The bank made unaudited cash earnings of $1.8bn, up 9.1% from 1Q21. The bank's earnings have been lifted by higher business and housing lending volumes, increased fees and commissions as well as increased risk management income in its Markets and Treasury division.
The result was achieved despite a drop in the bank's Net Interest Margin (NIM) to 1.64%, following roughly two years of record low interest rates. NAB's NIM is expected to rise as interest rates increase.
Among other things, shareholders can look forward to the virtual doubling of the current share buyback offer and the completion of the purchase of Citigroup's Australian consumer banking business. The latter will result in NAB's mortgage book rising by $8bn and will double the size of its credit card operations.
Is there more growth to come?
NAB's market capitalisation is the second largest of the Big 4 banks and its share price has more than doubled in the last couple of years. Shareholders might be forgiven for thinking it is too expensive now or that growth cannot continue. Consensus estimates for FY22 (the 12 months to 30 September 2022) are for 5.8% EPS growth while EPS growth in FY23 is expected to amount to 8.9%.
We think the key to accelerating growth will be rising interest rates, which will ease the squeeze on the bank's Net Interest Margin – an issue facing all Big Four banks right now. NAB has been able to shrug it off because of its superior technological capabilities and higher market share among business customers, although its current NIM of 1.64% is only ahead of ANZ, at 1.57%. Economists now expect interest rates to start rising in June and naturally the banks will follow suit albeit at different paces.
Valuation lower than CBA's
But more importantly, we think the stock is still reasonably priced, especially considering it is one of only two banks with positive momentum and currently without regulatory scrutiny – the other being CBA (ASX: CBA). NAB trades at a Price-to-Book (P/B) value of 1.7x, behind CBA at 2.4x but ahead of Westpac and ANZ which are both at 1.2x.
On a forward Price/Earnings (P/E) basis, NAB trades at 16.5x, which is cheaper than CBA, which is at 20.6x, but more expensive than Westpac and ANZ which are 16.0x and 13.4x respectively. We think NAB is the best Big Four bank stock at the moment, but momentum can quickly change in the banking space.
Recent Company Announcements
Stay up-to-date on ASX-listed Banking stocks!
Make sure you subscribe to Stocks Down Under today
No credit card needed and the trial expires automatically.
Frequently Asked Questions about NAB
Investing in mining stocks can offer good returns to investors, particularly if they want to invest for the long-term. But…
Let's take a closer look at dental stock Pacific Smiles Group (ASX:PSQ). Pacific Smiles operates 131 dental care centres across…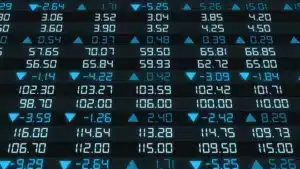 Custodian trades are trades that make it appear like a major bank has bought or sold your company, but it…