Talga Group (ASX: TLG) owns several Swedish graphite projects and is building an electric vehicle anode plant in Sweden. Its ambition is to make lithium-ion battery anode material from natural graphite flakes sourced from its in-house graphite projects. The company wishes to reduce Europe's green energy transition dependence on the supply of materials from China.
No time to do stock research, but you still want to invest?
Stocks Down Under Concierge gives you timely BUY and SELL alerts on ASX-listed stocks!
GET A 3-MONTH FREE TRIAL TO CONCIERGE TODAY
The bear market of 2022 saw Talga's share price trending lower from its all-time high of $2.20 in November 2021 until a swath of good news from the company pushed its share price through the one-year downtrend.
Talga's flagship is the Vittangi Graphite Project
Located in north Sweden is Talga's Vittangi Graphite Project with a total JORC (Joint Ore Reserves Committee) resource of 30.1 million tonnes at 24.1% graphite with further exploration upside potential.
TLG has so far mined 25,000 tonnes of graphite from the Vittangi Project and it claims the project contains 7.2mt of natural graphite, enough to produce battery anode material for about 60 million electric vehicles.
Anode production in Sweden is underway
Talga has built an electric vehicle anode plant in Sweden, in the port city of Lulea on the Gulf of Bothnia. The refinery plant is built to produce Talga's proprietary anode product, Talnode-C, a coated spherical anode material made from natural flake concentrate.
The plant has so far been able to produce samples for automotive customers' qualification process and has shown the technology's at-scale production capability.
A lot has happened at Talga in the last two months
On 27 September TLG announced it signed a non-binding offtake agreement with Automotive Cells Company (ACC) for the supply of 60,000 tonnes of Talga's anode product over a period of 5 years, commencing in 2026 (point 1 on the chart).
ACC is a European battery maker co-owned by some major automotive brands, including Mercedes-Benz and Stellantis, a major global automotive manufacturer with brands including Jeep, Peugeot, Alfa Romeo, Maserati and Chrysler.
A $32m equity capital raising at $1.10 was done in October
The impact of ACC's offtake agreement on TLG's share price was partly undone on 6 October when TLG announced an institutional placement and a share purchase plan to collectively raise $32m at $1.10 per share (point 2 on the chart).
The share purchase plan was welcomed by shareholders as it was oversubscribed and closed early. At the same time, the general share market recovery in October helped the stock's price recover to its pre-capital raising levels where the company rewarded supporting shareholders with another significant development.
Progress with European Investment Bank for Vittangi Anode Project funding
On 23 November TLG announced that it had passed the European Investment Bank's (EIB) preliminary screening for debt financing after the bank visited Talga's sites and conducted substantial due diligence. Talga mentioned that EIB has advanced the Project to "Under Appraisal" in preparation of a decision.
According to Talga's announcement, the EIB has financed projects in Sweden worth tens of billions of euros and provides financing for projects that align with EU policy goals. The Vittangi Anode Project is significant to Europe's green energy transition and the likely climate finance from EIB would make Talga's job of seeking further financing from other lenders easier.
How to play Talga stock?
In a recent development, Talga's share price broke through the downtrend and the resistance level of $1.50. But the bear market and weak sentiment on commodity stocks in general, due to China's property crisis, has prevented the stock from continuing its upward momentum.
While short-term and momentum traders might decide to stay away from TLG after today's big black candle, possibly due to some traders' profit-taking activity, long-term investors might appreciate the opportunity to pick up shares at more attractive prices.
Attractive for long-term investors
While graphite prices are currently dampened by the weak demand from steel manufacturers, the long-term demand forecast for graphite far exceeds its supply forecasts as the EV revolution unfolds.
In addition, Talga's recently completed equity capital raising should reduce the chances of further dilutions, at least in the medium term.
As such, we think prices near $1.30 are attractive for long-term investors with a stop loss at $1.00. A confirmed break below the psychologically important $1.00 level would indicate significant bearish sentiment on the stock that can open the way down to lower levels.
Stocks Down Under Concierge gives you timely BUY and SELL alerts on ASX-listed stocks!
GET A 3-MONTH FREE TRIAL TO CONCIERGE TODAY
No credit card needed and the trial expires automatically.


Frequently Asked Questions about Talga
If investing in resources stocks (particularly junior explorers) is too risky, another option is investing in metal exchanges. But is…
Investors have been excited about Leo Lithium (ASX:LLL) over the past year and so have we! We thought this was…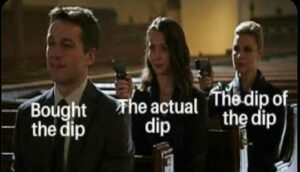 We recap the 5 top investing mistakes that investors make. These mistakes are not the only ones investors make, but…