Tourism Holdings (ASX:THL): Has it missed the tourism boom or is it just getting started?
Tourism Holdings (ASX:THL) purports to be New Zealand's premier tourism company. It was founded in 1984, listed on the NZX in 1986 and joined the ASX in late 2022.
There are few tourism stocks we have not covered at Stocks Down Under so we thought we'd give this one a closer look.
Do you need solid trading & investment ideas on the ASX? Stocks Down Under Concierge can help!
Concierge is a service that gives you timely BUY and SELL alerts on ASX-listed stocks – with price targets, buy ranges, stop loss levels and Sell alerts too. We only send out alerts on very high conviction stocks following substantial due diligence and our stop loss recommendations limit downside risks to individual stocks and maximise total returns.
Concierge is outperforming the market by a significant margin!
GET A 3-MONTH FREE TRIAL TO CONCIERGE TODAY
Who is Tourism Holdings?
Tourism Holdings has always been focused on New Zealand tourism, but after beginning as a scenic helicopter flight operator, it specialises on Recreational Vehicles (RV). It also now has business in Australia, Europe and North America.
In FY22 (the 12 months to June 30 2022), it generated NZ$345.8m in revenue (down 4%) and made a $2.1m post-tax loss (albeit improved from the $14.5m loss in FY21).
In 1HY23, it generated $261m in revenue and a made $25.2m profit. The USA accounted for NZ$94.7m of its revenues, while Australia generated NZ$57.6m and New Zealand made $45.7m. It made a further $61.6m from manufacturing caravans for other companies. And during 1HY23, the company finally completed the acquisition of industry peer Apollo Tourism (ASX:ATL).
Steady but slow growth
Since listing on the ASX, Tourism Holdings has been a success – something that cannot be said in respect of many other IPOs in the past 12 months. However, the gains recorded other tourism stocks have eluded the company.
Has Tourism Holdings missed the tourism boom? Is this company's time to shine only just getting started? Or is it just not well positioned to take full advantage of the tourism boom relative to other stocks? We think it is the latter.
To be clear, we are not suggesting this is a bad company that is about to be found out by investors. Instead, we are suggesting that investors shouldn't buy this company with the expectation that it will double or triple from here.
Just because there's a boom in an industry…
… doesn't mean all companies will capture a fair share of it – or any at all. The reality is that the global tourism market is highly competitive. Not only are companies competing with one another in individual market segments, but individual markets are competing with each other. Countries such as Australia and New Zealand are competing with several other markets around the world.
Tourist numbers were always going to rebound from pre-COVID levels. But it has been a slow and steady journey and more than a year since re-opening, arrivals are still a third below pre-COVID levels. Granted, this could be made up by the return of Chinese tourists, although data has shown that they have travelled domestically or to nations close to home.
And keep in mind that unlike other companies, Tourism Holdings's business was not completely in hibernation during COVID. Locals, unable to travel overseas, took advantage of the company's services to still go on holidays.
Looking forward, the company intends to replace ~20% of its fleet – which has to be paid for somehow. Then there's the question of how inflation will impact spending. Will it stop travellers from taking holidays at all? Will they just travel less frequently, or still go on holidays but spend less at the destination? Only time will tell.
There are better travel stocks out there
We have no doubt that Tourism Holdings will grow its revenues and profits. But we have our doubts that it will go through a boom that other travel stocks such as Qantas (ASX:QAN) have seen. In a high-inflation environment, there are better sectors to be in than tourism. And even if you would disagree, there are companies in better positions in the sector.
One example is travel agents, particularly those that service the high-margin corporate travel market such as Corporate Travel Management (ASX:CTD). Yes, gone are the days of travelling just for one meeting. But there will be travel to 'seal the deal' or to occasionally see projects or clients face to face. And business travellers will spend more than leisure travellers.
Travel stocks that operate in niche segments, such as Tourism Holdings, might be good to have in order to add stability to your portfolio. But thinking the travel boom in 2022 will last for several years to come and that every single company will derive substantial benefit? This is too risky a move for us to recommend.
Stocks Down Under Concierge is here to help you pick winning stocks!
The team at Stocks Down Under have been in the markets since the mid-90s and we have gone through many ups and downs. We have written about every sector!
Our Concierge BUY and SELL service picks the best stocks on ASX. We won't just tell you what to buy – we give you a buy range, price target, a stop loss level in order to maximise total returns and (of course) we tell you when to sell. And we will only recommend very high conviction stocks where substantial due diligence has been conducted.
Our performance is well ahead of the ASX200 and All Ords.
You can try out Concierge for 3 months … for FREE.
GET A 3-MONTH FREE TRIAL TO CONCIERGE TODAY
There's no credit card needed – the trial expires automatically.


Stocks Down Under
Average rating:
0 reviews
If investing in resources stocks (particularly junior explorers) is too risky, another option is investing in metal exchanges. But is…
Investors have been excited about Leo Lithium (ASX:LLL) over the past year and so have we! We thought this was…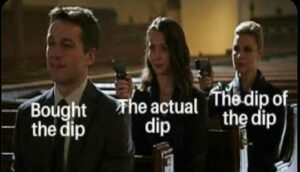 We recap the 5 top investing mistakes that investors make. These mistakes are not the only ones investors make, but…