Why has crypto declined in 2022 and will it bounce back from its horror year?
2022 was an annus horribilis for crypto. Investors and industry players are hoping for a bounce back, but will it actually happen?
SIGN UP FOR THE STOCKS DOWN UNDER NEWSLETTER NOW!
Why did crypto decline in 2022?
In 2022, the crypto market saw a sharp decline due to a variety of factors. These included an increase in regulatory uncertainty, an influx of new players with conflicting interests, and changes in consumer demand.
The regulatory uncertainty was caused by governments worldwide implementing stricter regulations on cryptocurrency transactions.
These regulations put a damper on the growth of the industry as investors were unsure how to proceed or if their investments would be safe in the future.
At the same time, there was also an influx of new players who had different objectives and motivations than those that had been part of this space from its beginnings.
These newcomers were often looking to make a quick profit and weren't necessarily interested in long-term stability or growth.
This created further instability and confusion within the market and led to greater volatility than what investors were used to.
Finally, consumer demand for cryptocurrencies had shifted significantly since their initial surge back in 2017 and 2018.
With prices remaining high and no clear end in sight, many investors felt it wasn't worth investing given all the other risks involved. This further exacerbated the downward spiral that had already begun due to other factors mentioned above.
All these factors combined created a perfect storm that resulted in a large sell-off across cryptocurrencies throughout 2022, leaving many investors feeling burned while others simply stayed away from investing altogether.
The subsequent lack of confidence led to further declines and losses for those still invested as they struggled with trying to determine when it would be safe enough to jump back into these markets again
Will crypto bounce back in 2023?
It is anyone's guess whether or not crypto will bounce back, it is certainly possible that crypto could bounce back in 2023.
Mainstream cyrpto assets such as Bitcoin, Ethereum and Litecoin have become popular investments for many people, especially those looking to diversify their portfolios.
And despite their decline, the market is well ahead of where it was a few years ago given the increase in adoption of digital assets and blockchain technology by major corporations, institutions and governments.
Additionally, governments are also starting to implement legislation for regulating cryptocurrency exchanges, which could help restore investor confidence in the market.
There are also new developments in terms of scalability and privacy features being implemented into some coins such as Bitcoin, Ethereum and Litecoin, which could give them more stability and usability.
All of these factors combined make it likely that cryptocurrency could see a resurgence in 2023.
The only certainty with crypto is volatility
Whatever way cryptocurrencies move, it is certain that there will be volatility in the market generally and amongst individual currencies.
They should only be considered by investors comfortable with the high level of risk, including the potential for large losses. There were unfortunately too many investors who bought into cryptocurrencies in 2021 and 2022 that did not consider the prospect for losses.
Stocks Down Under Concierge is here to help you pick winning stocks!
The team at Stocks Down Under have been in the markets since the mid-90s and we have gone through many ups and downs. We have written about every sector!
Our Concierge BUY and SELL service picks the best stocks on ASX. We won't just tell you what to buy – we give you a buy range, price target and stop loss level in order to maximise total returns. And we will only recommend very high conviction stocks where substantial due diligence has been conducted.
Our performance is well ahead of the ASX200 and All Ords.
You can try out Concierge for 3 months … for FREE.
GET A 3-MONTH FREE TRIAL TO CONCIERGE TODAY
There's no credit card needed – the trial expires automatically.


Stocks Down Under
Average rating:
0 reviews
If investing in resources stocks (particularly junior explorers) is too risky, another option is investing in metal exchanges. But is…
Investors have been excited about Leo Lithium (ASX:LLL) over the past year and so have we! We thought this was…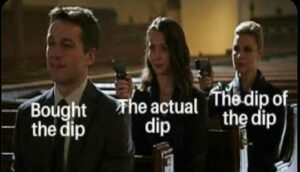 We recap the 5 top investing mistakes that investors make. These mistakes are not the only ones investors make, but…