Australian infant formula stocks, including Bubs Australia (ASX: BUB) have never been the same since the daigou trade was eliminated. But Bubs' deal with the USA has given shareholders hope that its glory days are back.
No time to do stock research, but you still want to invest?
Stocks Down Under Concierge gives you timely BUY and SELL alerts on ASX-listed stocks!
GET A 3-MONTH FREE TRIAL TO CONCIERGE TODAY
Who is Bubs?
Bubs (ASX: BUB) is a manufacturer and distributor of infant formula and other baby foods. It listed on the ASX in January 2017 at 10 cents a share. It rose as high as $1.42 in early 2019, off the back of demand for its products across the world, particularly in China. China was a popular market for Australian infant formula because there was a local distrust of domestic brands after a containment scandal that was exposed in 2008.
But deteriorating ties between Australia and China, the elimination of the daigou trade plus supply chain disruptions meant the market dried up, and investors turned away from Bubs and other companies. Amidst the pandemic, Bubs continued its sales to Australia and other Asia-Pacific markets (particularly Vietnam), but none of these markets could match China for population and market opportunity.
Are Bubs' glory days back?
Last weekend, Bubs shareholders received news that it had signed a deal to provide at least 1.25m tins of baby formula to the USA in the coming weeks. The Biden Administration announced the deal, hoping to counter infant formula shortages plaguing America. Bubs said 500,000 tins were ready for immediate export with the balance already planned and scheduled for completion in the coming months. The FDA exercised discretion to allow immediate sales, meaning Bubs did not have to go through the typical approval process a company like itself would need to go through to sell their products in the USA.
A number of other infant formula companies also rose last week, particularly A2 Milk (ASX: A2M) as shareholders of those companies expressed hope for a similar deal. But so far, the only company to comment on these events to shareholders is Australian Dairy Nutritionals (ASX: AHF) which applied to the FDA for the same enforcement discretion. As of Wednesday 1 June, the US regulator has not responded to AHF. However, A2 Milk chief executive David Bortolussi told the AFR it made its own submission last week.
Investors think they are
Bubs shares surged from 48 cents at Friday's close to 78 cents at market open on Monday. But shares have retreated to around 60 cents since as the euphoria wore off. Then broker Bell Potter downgraded the company's shares to a (speculative) hold rating with a target price of 75 cents. It noted the FDA's infant formula enforcement discretion policy (IFEDP) is only in place until November.
Yet, even with the share price retreat, Bubs is trading at 133.9x EV/EBITDA for FY23. In FY23, consensus estimates only expect $2.6m in EBITDA and $107.5m in revenue. If replicated, revenues would be 44.3% up from FY22 consensus estimates and EBITDA a substantial turnaround from $1.3m forecasted in FY22. The company has not issued guidance for FY22 or FY23, nor has it said how much money it intends to make from its deal with the Biden administration.
We think Bubs is too great a risk
There's no doubt that if the infant formula sector can make major headway in the US, it will be as close as shareholders could get to the China boom of the mid to late 2010s, given the size of the US population. And Bubs is hoping to be in the market long term, appointing a US Advisory Board aimed at providing a pathway to expand in the USA.
But as big as it was to have US President Joe Biden tweet out news of the deal, this is just a temporary agreement that is hoped to solve severe local shortages. As a matter of national pride, the United States would want its own industry to get back on its feet.
We think that until Bubs has longer term supply deals of this magnitude (and for that matter any other infant formula company that might win FDA discretion), it is too big of a risk right now. All too often in the past couple of years did we see companies such as Zoono (ASX: ZNO) with hand sanitisers see share price surges due to temporary demand, only to see the share price retreat when demand returned to normal levels.
Unless there are longer-term developments in the US market, we think shareholders buying now risk falling into the same trap.
No time to do stock research, but you still want to invest?
Stocks Down Under Concierge gives you timely BUY and SELL alerts on ASX-listed stocks!
GET A 3-MONTH FREE TRIAL TO CONCIERGE TODAY
No credit card needed and the trial expires automatically.


Frequently Asked Questions about Bubs
If investing in resources stocks (particularly junior explorers) is too risky, another option is investing in metal exchanges. But is…
Investors have been excited about Leo Lithium (ASX:LLL) over the past year and so have we! We thought this was…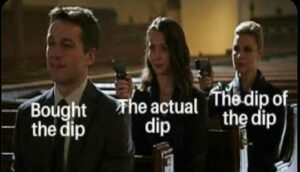 We recap the 5 top investing mistakes that investors make. These mistakes are not the only ones investors make, but…