Saunders International's (ASX: SND) long-term uptrend is meant to last for a long time
Saunders International (ASX: SND) designs and constructs steel bulk liquid storage tanks, roads and bridges in Australia and the Pacific Region. The company offers its services to oil & gas, water utilities and defence industries amongst others.
No time to do stock research, but you still want to invest?
Stocks Down Under Concierge gives you timely BUY and SELL alerts on ASX-listed stocks!
GET A 3-MONTH FREE TRIAL TO CONCIERGE TODAY
Saunders' share price has been on an uptrend since late 2019 as the company's financial performance has kept improving since then. Its FY19 revenue and losses of $50m and $1.6m evolved to a revenue and profits of $130m and $6.5m in FY22. With the business continuing to grow, we think the long-term uptrend in the share price should hold for the foreseeable future.
We've been bullish on Saunders International since we first covered the company in our Small Cap Stocks Down Under Publication in October 2020. Stocks Down Under subscribers can read the article here.
Saunders International's FY22 performance was impressive
FY22 was another record year for Saunders despite all the headwinds it faced from supply chain disruptions to labour shortages. The company's revenue and earnings respectively increased by 28% and 16% year over year. The management was successful in navigating the company through COVID-19 absenteeism by over-staffing its projects and it hired oversees workers to deal with the labour shortages. And where the floods interrupted its NSW projects it redeployed its resources to other projects when possible.
More growth expected in FY23
As of June 2022, Saunders had a $1.3 billion pipeline of new opportunities with an order book of $193m for FY23. In October 2022, the company announced winning two more contracts, further extending its FY23 and FY24 order book. One a circa $44m contract to build the aviation fuel terminal at the new Western Sydney International Airport, and another a circa $9m contract to construct a diesel storage tank in Newcastle.
With the new developments since June 2022, the pipeline of new opportunities for Saunders International to be tendered has now increased to over $1.5 billion. The company forecasts a FY23 revenue in a range of $190m to $220m at an EBIT margin range of 6.5% to 7.5%. This guides to an EBIT range of $12.4m to $16.5m, which would represent a significant growth over the FY22 EBIT of $8.6m.
Solid balance sheet
Saunders generated $19.8m cash from operation in FY22 and ended the year with $36.7m of cash and only $3.5 of debt, not bad for a company with a market capitalisation of $125m.
Saunders International's stock is attractively valued
Saunders International is covered by two analysts, and based on their consensus estimate, Saunders is expected to generate EBITDAs of $16.9m and $19.1m in FY23 and FY24, respectively, which implies EBITDA growth rates of 65% and 13% for those years.
The company had depreciation and amortisation charges of $2.2m in FY22. Assuming similar depreciation and amortisation charges for FY23 and based on the company's forecasted FY23 EBIT range of $12.4m to $16.5m, we think the consensus FY23 EBITDA estimate of $16.9m sounds reasonable.
Based on the consensus estimate, Saunders' stock is trading at a forward P/E multiple of 12.6 and EV/EBITDA multiples of 5.4x and 4.7x for FY23 and FY24, respectively. Fairly cheap in our opinion.
Acceptable dividend yield
The company paid 3 cents in dividends from earnings per share of 6.2 cents it made in FY22. Assuming a similar payout ratio of circa 50% and the expected earnings of 9 cents per share for FY23, Saunders' stock is potentially offering a dividend yield of 4% at the current price of $1.13.
How to play Saunders International stock?
As we expect Saunders' financial performance to continue to improve for the foreseeable future, and given its attractive valuation, we think its share price can continue to rise alongside the long-term uptrend (the blue trendline on the chart) with the first target price at the all-time high of $1.40, to be reached in the next several months.
Stop loss of $1.00
$1.00 is a psychologically important level, and a break below $1.00 would mean the long-term uptrend is broken as well, and it significantly reduces the chances of share price appreciations in the short to medium term.
No time to do stock research, but you still want to invest?
Stocks Down Under Concierge gives you timely BUY and SELL alerts on ASX-listed stocks!
GET A 3-MONTH FREE TRIAL TO CONCIERGE TODAY
No credit card needed and the trial expires automatically.


Frequently Asked Questions about Saunders International
If investing in resources stocks (particularly junior explorers) is too risky, another option is investing in metal exchanges. But is…
Investors have been excited about Leo Lithium (ASX:LLL) over the past year and so have we! We thought this was…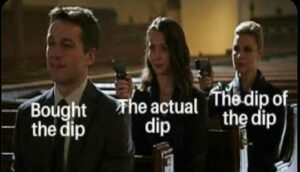 We recap the 5 top investing mistakes that investors make. These mistakes are not the only ones investors make, but…