TMK Energy's (ASX: TMK) share price is rallying on the back of excellent drilling results
TMK Energy's (ASX: TMK) share price has had a good time in the last 4 weeks after the company announced successful drilling results from its Gurvantes Coal Seam Gas (CSG) Project, located in the South Gobi Desert in Mongolia.
No time to do stock research, but you still want to invest?
Stocks Down Under Concierge gives you timely BUY and SELL alerts on ASX-listed stocks!
GET A 3-MONTH FREE TRIAL TO CONCIERGE TODAY
Coal Seam Gas (CSG) is a type of natural gas
Coal Seam Gas, or CSG, is a type of natural gas that consists primarily of methane, which is found in coal deposits. CSG collects in coal seams by bonding to the surface of coal particles.
CSG is extracted through wells drilled into coal seams and it's used in the same ways as natural gas, including fuelling natural gas appliances, such as heaters and stoves, and generating electricity. Electricity generated from CSG is a cleaner energy source than coal as it produces around half the emissions of electricity generated by coal (Source: QLD Government department of environment and science).
TMK's CSG project in Mongolia is very promising
The Gurvantes CSG Project area is coal prosperous with multiple thick and high-quality coal seams extending in the area where six active coal mines are operating. Preliminary exploration for CSG was initially completed in 2005 and the test work characterised the coal as containing high gas quantities of ~10m3/t with a very high methane concentration of >95%.
Encouraging drilling results
TMK started its drilling program at the project on March 22 and in total drilled 5 wells with the last one completed on 9 October 2022. TMK Energy reported commercially encouraging results with all wells encountering thick gassy coals with high gas content.
The company is now using the results from the drilling program to complete its contingent resource assessment with a target date of 31 October 2022. The results of the assessment should assist TMK Energy with the advancement of its pilot well program, scheduled to commence in late 2022. In turn, the pilot well program should prove up and allow measurement of gas flow to surface. It should also provide a better understanding of the commercialisation potential of the resource.
❶ TMK signs a binding memorandum of understanding with PetroChina, Asia's largest oil and gas producer, to work together to accelerate the development of the Gurvantes CSG Project. (PetroChina Aligns with TMK Energy)
❷ The results of one of the wells at the Gurvantes CSG project shows an outstanding coal intersection with high gas content. (Outstanding Coal Intersection in Lower Coal Seam at SL-03R )
A positive demand outlook for gas
Gas is the only fossil fuel expected to grow beyond 2030, according to McKinsey. Gas demand is expected to experience only a moderate decline in the years from 2035 to 2050. This is due to the fact that gas is hardly replaceable for use in chemical and industrial sectors, which limits the impact of an accelerating decline in gas used for power.
In addition, the green energy transition is expected to reduce gas usage in developed countries, while leading to higher demand in developing countries as they move away from coal and replace it with gas.
The Gurvantes CSG Project is ideally situated for future gas sales
The Gurvantes project area is situated less than 20 km from the Chinese-Mongolian border and close to the Northern China gas transmission and distribution network. The project's location is also close to several large-scale mining operations with high energy needs. Therefore, the Gurvantes CSG project is ideally situated for future sales to support both local Mongolian as well as Chinese energy requirements.
TMK Energy is tapping into
PetroChina's expertise
PetroChina's interest in the project is an outcome of the high demand for the gas from the Gurvantes project. The MoU signed with PetroChina now allows TMK to benefit from Asia's largest oil and gas producer's technical expertise for the development and commercialisation of the Gurvantes project.
The MoU also includes a process by which PetroChina may proceed towards investment in the Gurvantes CSG project, either through direct investment in TMK Energy or into the project.
Expected positive news flow
should
support TMK
Energy
's share price
The company's positive drilling results have driven up TMK's share price and its small market capitalisation of $63m. Additional good news can have a substantial impact on TMK's share price, in our view.
TMK Energy expects to receive the resource assessment results around the end of October and commence the pilot well program by the end of 2022. The MoU with PetroChina will expire after six months from the date of signing, which means we can expect news regarding PetroChina's possible investment in TMK in the next four months.
As such, based on the TMK's chart we think prices near 1.6 cents are attractive with a stop loss at 1.3 cents and a target price of 5 cents to be reached in the next 12 to 18 months.
No time to do stock research, but you still want to invest?
Stocks Down Under Concierge gives you timely BUY and SELL alerts on ASX-listed stocks!
GET A 3-MONTH FREE TRIAL TO CONCIERGE TODAY
No credit card needed and the trial expires automatically.


Frequently Asked Questions about TMK Energy
If investing in resources stocks (particularly junior explorers) is too risky, another option is investing in metal exchanges. But is…
Investors have been excited about Leo Lithium (ASX:LLL) over the past year and so have we! We thought this was…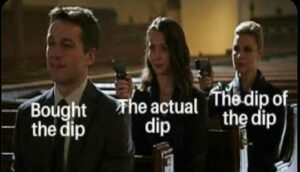 We recap the 5 top investing mistakes that investors make. These mistakes are not the only ones investors make, but…